What a lot has been going on and I'm so sorry for not keeping you up to date!
I have just released an adult colouring book and I have another in the works, click here to order your copy now before the price increases!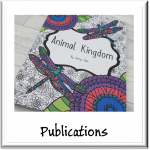 I have also been working with Anita Harries to release a beautiful poetry book .  Not only is it fun and colourful but half the proceeds go to Mind Dorset.  Such a worthy cause!
To order your copy head here.  I'm afraid you can't add it to your basket as it is an affiliate link.   But do feel free to fill you basket too!
Well that's all for the moment but keep your eyes peeled for new products!
Jen xx